All-Out Show Off
Review Date: 9 January 2018

Reviewed by:
Storm/Roto Grip staffer John Brockland
Style: Stroker Rev Rate: 280-310
PAP: 5.50" over and 1" up
The ALL OUT SHOW OFF was this fall's addition to Roto Grip's HP-2 line. As with the SHOW OFF released in August, do not let it's HP-2 line status fool you!!! There is one heck of a lot of bowling ball here for this performance level and price point!

It features the same Hotshot symmetrical core as the original SHOW OFF. Therefore it has the same specs -- a relatively high RG at 2.55 and a Diff of 0.045. That Diff provides more flare potential that one would ordinarily expect at this performance level.

Interestingly, whereas the SHOW OFF had the super strong Micro DNA solid cover from the original NO RULES, which makes it able to handle pretty heavy volume, the ALL OUT SHOW OFF cover is Roto Grip's Stoked hybrid, one of the weaker covers in the Roto Grip library of coverstocks. The hybrid makeup here is two parts solid and one part pearl.

Because of the larger percentage of solid to pearl and the overall weak strength rating of the hybrid cover and because of the stable and predictable ball motion created by this core, I chose to drill mine with a Pin in the Palm layout thinking that would enhance the ball's design intent. Roto Grip says the ball was built to "battle those medium type conditions and provide an option on a variety of patterns if there is too much friction." Some years back I had a DERANGED drilled that way that I found very useful on typical house shots around town. For me the pin in the palm layout gives me a smooth motion that generally won't spark off the dry (unless it's leaked right too early) and it helps me blend out what are usually super cliffed league patterns around town.

I left the cover on my ALL OUT SHOW OFF at box condition, which is a 1500-grit polished factory finish. That shine provides a decent amount of easy clean motion through the front part of the lane and the larger percentage of solid in the hybrid material of the cover keeps it from doing anything crazy when it sees friction down lane. It's been very useful that way on some of our more worn wood surfaces around town. I have not had any occasion to alter the surface and haven't seen anyone else do so either, so I can't say whether this hybrid cover would take well to that or not. Roto Grip assures success in doing so, though, if you need it to handle a little bit heavier volume.

In addition to my own experience of using it, I watched a number of high rev players use it with significant success in the later stages of their qualifying blocks at this year's Holiday Doubles tournament – another circumstance where the lanes got super cliffed. PDW used his the entire block.

Together with the SHOW OFF solid this hybrid provides a really good benchmark combo that would be a great middle section for any bowler's arsenal. And again, in my opinion with these two the bowler is getting HP-3 performance capacity at an HP-2 price tag. Who can argue with that?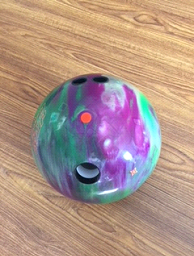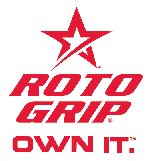 | Lbs. | RG | Diff. | PSA Diff. |
| --- | --- | --- | --- |
| 16 | 2.55 | 0.045 | N/A |
| 15 | 2.55 | 0.045 | N/A |
| 14 | 2.55 | 0.045 | N/A |
| 13 | 2.63 | 0.009 | N/A |
| 12 | 2.65 | 0.011 | N/A |
| 11 | N/A | N/A | N/A |
| 10 | N/A | N/A | N/A |
---
---