Dare Devil Danger
Review Date: 9 January 2018

Reviewed by:
Storm/Roto Grip staffer John Brockland
Style: Stroker Rev Rate: 280-310
PAP: 5.50" over and 1" up
The DARE DEVIL series has been a hit and miss set of releases for me. The original DARE DEVIL (pearl) was a ball I wanted to like but never managed to find much success with. For me the combination of smooth and rather early motion core and the pearl cover always seemed to be fighting each other no matter what layout I tried, and I tried several. There have been only rare occasions when that ball has been the right tool for me.

The DARE DEVIL TRICK was different story. It provides me a really good, pinch stronger replacement for the DISTURBED which I loved. It gives me good, and sometimes even early, revving motion through the midlane and smooth-ish shape off the breakpoint downlane. Roto Grip calls the Madcap core in this series the "strongest rolling low RG symmetrical core they have ever offered." It has been great on several flatter patterns that were frontloaded with volume, notably a super tricky version of PBA50 Cheetah last summer and the 2017 USBC Open Championships singles and doubles pattern. The TRICK is a mainstay in my tournament bag.

With the DARE DEVIL DANGER we have now the hybrid of the series. It's the same Madcap symmetrical core. The hybrid cover here is Roto Grip's Psyched cover, which a little bit weaker than medium strength in the spectrum of Roto Grip coverstocks. The hybrid makeup here is two parts pearl and one part solid.

The performance goal of the DANGER is to "battle a variety of oil patterns but ideally it will excel on those medium type conditions."

I did a little experimenting with the layout on mine. I wanted something smooth so I went with a low pin layout but I also wanted to be able to attach the dry a little bit on local wet/dry house shots and so I went with a longer pin to pap distance than I ever had before on a low pin layout. The pin ends up under my middle finger almost 6 inches from my pap.

I got exactly what I was hoping for --- good length and smooth back end motion. The difficulty I've encountered so far is that the combination of this layout and the length it creates along with the majority pearl composition of the cover makes my DANGER super, super respectful of oil. A miss inside on wet/dry house shots around town has not just been a two-pin combo like usual but often a washout because the ball just never read the lane.

As a result I simply haven't messed with the DANGER very much but have set it aside in favor of other balls that have just been at hand and easier to score with as they are. What I need to do next with the DANGER is adjust the cover to knock down the shine a little from the 1500-grit polish factory finish. I believe that will eliminate some of the severe respect for oil I've been seeing from it so far.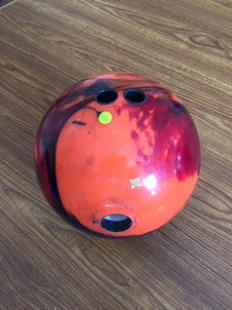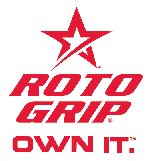 | Lbs. | RG | Diff. | PSA Diff. |
| --- | --- | --- | --- |
| 16 | 2.57 | 0.039 | N/A |
| 15 | 2.48 | 0.041 | N/A |
| 14 | 2.53 | 0.040 | N/A |
| 13 | 2.59 | 0.045 | N/A |
| 12 | 2.65 | 0.035 | N/A |
| 11 | N/A | N/A | N/A |
| 10 | N/A | N/A | N/A |
---
---