The Hustle Ink
Review Date: 4 November 2017

Reviewed by:
Storm/Roto Grip staffer John Brockland
Style: Stroker Rev Rate: 280-310
PAP: 5.50" over and 1" up
As I age and my ball speed continues to settle into the medium to soft range I am always looking for more options in my arsenal to help get the ball down the lane with enough stored up energy to make me feel reasonably competitive in house shot tournaments around town. With little width on the right to most patterns here in STL, I end up driven into the middle of the lane and most often my ball still hooks too soon in the midlane and has not enough left to go through the pins effectively from deep inside angles, especially late into eight or ten-game blocks.
When its release was announced, the HUSTLE INK that intrigued me in this regard. I have never experimented much with other products in Roto Grip's HP-1 line, but I thought this may be worth a try. It has a reasonably high RG of 2.53 and a relatively low flare potential with a Diff of only 0.030. I had several people tell me that their impression of it was that it was like an overall weaker !Q TOUR EDITION (RG 2.49 and Diff 0.029) but with a higher RG, so I was hoping it may be just the ticket! I drilled it with a standard pin over the bridge layout for me. The Dual Angle System specs come to 60 x 5 x 40.
It turned out to produce a LOT more movement down lane than I ever expected it to. I was hoping it would allow me to stay closer to the track area of the lane on typical STL house shots but it didn't. Instead it forced me to migrate as deep into the middle of the lane as HP-2 category and higher equipment does (likely as much the result of the lack of width on the right to most house patterns around town as anything). With that high pin layout and the motion produced by its Hustle Symmetrical Core and Thrilled Solid Reactive coverstock, what I felt like I had in my hand was a weak version of a HY-ROAD (HY-ROAD = 2.57 RG and 0.046 Diff). The difficulty it caused me was a lot of ringing ten pins. Even though it makes a significant move down lane, it just wasn't quite enough engine for me from a deep inside line. For me, if I have to get that deep a super polished HY-ROAD with its higher Diff is a better option for me.
So, I thought it would be worth the experiment to plug the HUSTLE INK and try something outside the box. I went with what we old timers used to call a Pin-Axis drilling back in the day. It's what you see in the photograph below. The pin is located directly on my PAP (positive axis point), which is 5.5" over and 1" up from my grip center. The CG then is on a line back from that point through my grip center. I have not bothered to figure out what the Dual Angle System or VLS specs would come out to.
The intent of this layout, which many friends used to use bowling PBA Regionals back in the day when the lanes were often nasty before designed and published lane patterns and which I have also had some success with from time to time, is intended to create a completely smooth rolling and minimally arcing ball motion.
The first outing was on an ordinary league night and the ball was absolutely perfect in practice playing the track area of the lane. We happened that night to be on a pair of lanes where the right lane is notorious for bad carry. As a result I struck every time on the left lane and only once on the right lane for a solid 207 game. My team needed more score out of me than that, so I ended up putting the INK away. I haven't had opportunity to use it any more since, because there have been other more recent releases I have had to give my time and attention to in doing my staff job.
However, I am very confident that this HUSTLE INK will be particularly handy if my schedule ever affords me some house shot tournament time around town as well as on some shorter and/or lighter volume patterns out of town. It's never going to be a first ball out of the bag, but it will fill a wildcard niche that at times is needed when nothing else will work.
For an entry level bowler, I think the HUSTLE INK would be a great place to start.

A higher rev player may find it a good option for the weaker section of his/her arsenal.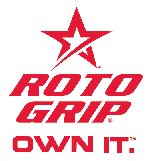 | Lbs. | RG | Diff. | PSA Diff. |
| --- | --- | --- | --- |
| 16 | 2.53 | 0.030 | N/A |
| 15 | 2.53 | 0.030 | N/A |
| 14 | 2.53 | 0.030 | N/A |
| 13 | 2.63 | 0.009 | N/A |
| 12 | 2.65 | 0.011 | N/A |
| 11 | N/A | N/A | N/A |
| 10 | N/A | N/A | N/A |
---
---