The Code Black
Review Date: 30 November 2016

Reviewed by:
Storm/Roto Grip staffer John Brockland
Style: Stroker Rev Rate: 280-310
PAP: 5.5" over and 1" up
This recent release brings stateside a ball that has proven to be very successful overseas for some time. The RAD4 core is described by Storm as an engineering breakthrough. It is wrapped with R2S pearl coverstock which has been most often used in Storm's midrange Master and Thunder lines. Here, on this Premier Line release, Storm says it provides the "perfect balance of length and reactivity."

Two of my favorite R2S pearl releases were both symmetrical balls: the VICTORY ROAD and the T-ROAD PEARL. The same clean through the front attributes of this cover on those balls, now wrapped around this asymmetrical core, make the CODE BLACK very unique in my opinion!

The RAD4 core is described by Storm's Pro Tour Manager and Hall of Famer, Del Ballard, as one that "reaches its preferred spin axis…and just keeps coming!" Talking about what he has seen from the CODE BLACK in the hands of touring pros, he said for higher rev players "an asymmetrical ball will often…seem to slow down or quit...The CODE BLACK doesn't do that!" For players with lower rev rates, he says "just crack the shell a little bit to get it to start up a little sooner and it just kept on coming. It allowed them to play about three to four or five boards deeper than they normally would and the ball would keep coming through the pins."

For my own part, I don't remember ever having a high performance asymmetrical ball that creates the kind of angle down lane that the CODE BLACK does. In fact, with my old man game, it's rare that I see any ball hit the spot down lane anymore and react as if someone literally "kicked it left." But the CODE BLACK does that for me! (Strong layout on mine: Pin to PAP = 4.5; Mass Bias to PAP = 5; Pin Buffer = 2.) Others have seen the same. USBC Hall of Famer and fellow Raisin, Jeff Richgels, calls the ball "WICKED!"

I am only bowling league on typical STL house shots this fall due to schedule limitations, so I have not had as much opportunity as I would like to see what the CODE BLACK will do for my game on higher volume patterns, wider patterns, or flatter sport patterns. I am pretty darn confident from what I have seen, though, that it will be a lifesaver in any circumstance where opening up a really tight lane pattern might be next to impossible for me with any other ball. As clean as the R2S cover is through the front, how much I might have to "crack the cover" to get what I'm looking for in those circumstances remains an unknown. But, it's great to hear from the expertise of folks like Del Ballard that doing that has been successful for others like me with less hand.

As is the case with every bowling ball these days (as overall strongly reactive as they all are), what is said above about the CODE BLACK is true as long as the ball is being used in the correct circumstances. What I have seen, citing what Jeff Richgels said succinctly in his review, is that "the CODE BLACK either works or tells you to put it away." That means that as good as it is, the CODE BLACK is not a cure-all. Frankly, no ball is anymore!...and that's an invaluable thing to remember. If you try to use the wrong ball in the wrong circumstance – whether in tournament play or during league – you're not going to get your desired results. As clean as the CODE BLACK is through the front for an asymmetrical ball, when there hasn't been enough volume for it to get to the spot with enough energy left to perform like it is designed to it has sent me a clear message with a rash of flat tens and mixer sevens.

All that said, the CODE BLACK for sure has a spot in my "out of town tournament bag" for PBA50 action in 2017. It's about four boards stronger than the gentler (by comparison) down lane motion of the SNAP LOCK. I anticipate times when the CODE BLACK might be a little too angular down lane on flat but medium length patterns, even if there is heavy volume up front. So my "smoother" but overall strong solids like the NO RULES and ALPHA CRUX still remain important tools in the toolbox.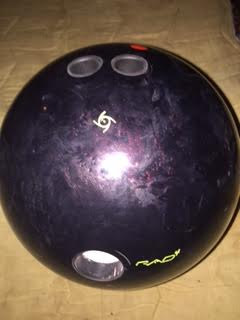 | Lbs. | RG | Diff. | Inter. Diff. |
| --- | --- | --- | --- |
| 16 | 2.49 | 0.056 | 0.022 |
| 15 | 2.50 | 0.058 | 0.020 |
| 14 | 2.555 | 0.056 | 0.014 |
| 13 | 2.63 | 0.039 | 0.011 |
| 12 | 2.72 | 0.022 | 0.006 |
---
---