The Match Pearl
Review Date: 11 October 2016

Reviewed by:
Storm/Roto Grip staffer John Brockland
Style: Stroker Rev Rate: 280-310
PAP: 5.5" over and 1" up
Not every ball is for every bowler. That doesn't mean it's a bad ball. It's just the reality from one person's game to the next. The MATCH SOLID is a ball I have never matched up with well despite a number of different efforts at tweaking things with it – surface changes, adding a weight hole, etc. But one should never right off an entire series of balls simply because one in the series doesn't work for you. The MATCH PEARL has proven that for me.

It's built on the same Stinger Core with the same tech specs as the MATCH SOLID. But the pearl cover (Reactor Pearl) makes all the difference for me in performance.

I would not have been inclined to try the MATCH PEARL except for the fact that I saw Hall of Fame down-and-in player, Liz Johnson, using it effectively during qualifying from around 15-board on the very tricky US Women's Open pattern this year. And, I remembered seeing another great down-and-in player, Michael Haugen Jr., using it effectively on the left lane in his impressive win at the PBA XtraFrame Gene Carter's Pro Shop Classic while using a Storm LOCK on the right lane. That was contested on the 41-foot PBA World Championship pattern. If the ball performed so well for them, I thought it might be beneficial to my old-man game.

Not bowling many tournaments right now, I can only speak to what it's done for me on hooking STL house patterns. Overall, that's been very good! It generally allows me to tackle even STL's friction-heavy track areas with some measure of a tube-style approach to lane play – which, of course, for an old guy like me always translates into better scores than having to play deep inside. Obviously it can be effective in the right situations on at least medium volume as well – just as Michael Haugen, Jr. demonstrated when using it to keep the ball on line on the left lane in the tournament mentioned above while doing the same thing on the right lane with the much, much stronger Storm LOCK.

True to Storm's Hot line, what can be expected here is a ball on the tamer end of the spectrum. At 15 pounds it has a medium range RG at 2.55 but a reasonably low differential at .030. What's impressive to me is the number of half-pocket strikes I carry with it and the way it digs the ten out, even with a somewhat weaker core. It's good and clean through the front and angular enough for me to be able migrate left with it (to a point). With my old-guy game, once I start getting near 20-board I have to go to back to something with a stronger core. It's got a little more length and is a more angular than my Roto Grip HECTIC and that gives it a nice spot in the sequence of things at the tamer end of my arsenal. I have a suspicion it may be pretty good for me on shorter patterns as well.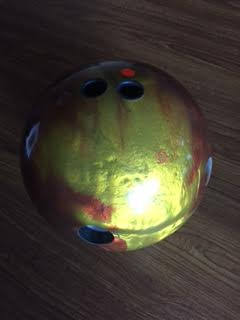 | Lbs. | RG | Diff. | PSA Diff. |
| --- | --- | --- | --- |
| 16 | 2.55 | 0.057 | n/a |
| 15 | 2.55 | 0.030 | n/a |
| 14 | 2.58 | 0.030 | n/a |
| 13 | 2.59 | 0.045 | n/a |
| 12 | | | |
---
---