Phaze II
Review Date: 11 October 2016

Reviewed by:
Storm/Roto Grip staffer John Brockland
Style: Stroker Rev Rate: 280-310
PAP: 5.5" over and 1" up
This ball is NOTHING like its predecessor! When the original PHAZE was released, my first comment in reviewing it was "this new addition to the Master Line of the Storm arsenal is that this is not the 'go long and hook hard' ball motion that has been the famous characteristic of most Storm products for years. Nor, is it intended to be." For that reason, a lot of people – particularly some of my higher rev player friends – really didn't find the original PHAZE useful at all. The PHAZE II has been released for a week now, and many are finding what I have found – it is not at all like the first one!

he PHAZE II is build around the same VelocityTM core as its predecessor -- still early revving and still good midlane. In the drilling shown below, the pin to PAP distance is nearly 6 inches for me and I still never miss the midlane with it! That speaks volumes about the dynamics of this core.

The real ingenuity in the PHAZE II, however, is in the coverstock. Storm tech guru, Victor Marion, has spoken about the process that led to the development of this latest advancement in coverstock technology. After reaffirming that the design intent of the original PHAZE was to produce "something that was smooth, something that was controllable, something that when it encountered friction it didn't really jump," he said: "In the PHAZE II we have a sanded solid. The additive in the solid, when it's sanded, creates very strong peaks – very strong spikes – so those displace oil. So essentially what we're doing is, by making those really strong dynamic peaks, in the TX-16 cover we're able to create something that reads dry even drier! But the nice thing about it is you can now move in and play in the heavier oil."

I have heard many top caliber bowlers compare the early revving character of the PHAZE II to the MARVEL-S. Combining that with its surprisingly strong (but not at all snappy or sharply angular) backend motion, many have found themselves thinking it similar to the very popular SPECIAL AGENT from several years ago, a ball I never owned.

In my arsenal these days I have several strong asymmetrical balls that I have good success with on heavy volume and long patterns and I really didn't need to add another piece to that section of my arsenal, even though the symmetrical core in the PHAZE II would be something a smidge different in that category for me. So, I decided I would try something I usually don't do in an effort to make the PHAZE II a good addition to the middle range of my arsenal. I went with a layout that has a pin distance to PAP longer than 5.50 inches – which for me creates what some used to refer to as a "pin in the negative" (i.e. over the middle finger). The specs on the layout come to 65 x 6 x 40.

I've not been seeing much tournament action lately because of my work schedule, so my read on the PHAZE II is entirely based on STL house conditions which typically are hooking wet/dry in the track area with a long puddle in the middle. I'm bowling a league this year with my good buddy, Pete Weber, and as much as he already loves his PHAZE II (especially its good midlane) from having tested it at Storm headquarters in Utah, when he tried it in league his first words were "that thing slows down too much to use here." That was exactly my read as well when I tried it a box surface (3000-grit abralon). So I polished mine to see if that would give me the little bit more delayed hook/roll transition I needed. Most often it has forced me into launch angles that are too steep and I've had ring-ten, solid nine carry with it. Many top caliber bowlers – like Jeff Richgels – who bowl in parts of the country where there is regularly more volume, have spoken about the PHAZE II as a perfect new benchmark ball to be first out of the bag on most patterns.

The low RG and high differential for sure are in my preferred range for that.

Around the STL however, the benchmark category for me is more true of something a little cleaner like the ROCKET SHIP.

Even in STL for a person with more ball speed and/or less hand (weird for me to say that!), the PHAZE II is a great ball to consider in that benchmark category.

I look forward to returning the PHAZE II to box finish and having it in the bag for tournaments on medium to medium-heavy, medium-length and longer patterns.

If USBC Open Championship patterns stay similar to what they have been I could see it being very useful to navigate that tricky ICE oil through the heads without missing the midlane and without creating anything too sharply angular on the back.

We'll see!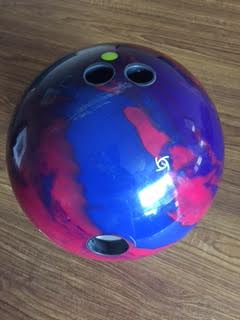 | Lbs. | RG | Diff. | PSA Diff. |
| --- | --- | --- | --- |
| 16 | 2.48 | 0.051 | n/a |
| 15 | 2.48 | 0.051 | n/a |
| 14 | 2.53 | 0.050 | n/a |
| 13 | 2.59 | 0.045 | n/a |
| 12 | 2.65 | 0.035 | n/a |
---
---