The Match Solid
Review Date: 12 August 2016

Reviewed by:
Storm/Roto Grip staffer John Brockland
Style: Stroker Rev Rate: 280-310
PAP: 5.5" over and 1" up
The MATCH SOLID is one of a pair of new additions to the Hot Line of the Storm arsenal along with the MATCH PEARL. By and large, they replace the OUT series. I was a strong fan of the WIPE OUT for medium to light volume and shorter patterns and my last one cracked, so I was intrigued to try the MATCH SOLID as its replacement.
With that aim, I duplicated the layout that I had on my WIPE OUT. It's pin under the bridge. The specs come to 60 x 5 x 70 with a 1-inch balance hole at around P1.
The MATCH is built around a different core than the OUT series. It's the new Stinger Core. By comparison to the Turbine Core of the OUT series, this new core is similarly medium RG in dynamics – exactly the same at 15 and 14lbs. (2.55 and 2.58) and slightly higher at 16lbs. (2.55 compared to 2.53). The significant difference, which I think is producing the difference I'm seeing in performance is that the flare potential of the WIPE OUT was greater than the MATCH. The WIPE OUT had a differential of .040 at 16lbs., .038 at 15lbs., and .035 at 14lbs. The MATCH has a differential at those respective weights of only .027, .030, and .030. The coverstock used obviously also makes a difference. The WIPE OUT was wrapped with Storm's famous R2S cover (think !Q TOUR EDITION) and the MATCH is wrapped with the weaker Reactor Solid cover (think TROPICAL BREEZE SOLID black/teal, or THUNDER STRUCK).
Consequently, what I'm seeing makes sense --- and that is a much smoother (for me certainly weaker and almost too smooth) overall ball reaction and certainly less motion down lane. Whereas even with the low pin layout my WIPE OUT would corner pretty well down lane (again mindful that its usefulness for me was on medium to lower volume and medium to shorter patterns), the MATCH really seems to lay off down lane for me. I will probably end up trying something different with it. First try will be to move the weight hole to the P3 – P4 range to see if that increases the flare potential enough to make a notable difference. Otherwise, I'll try plugging and re-drilling it either again with a pin under layout but with the pin in the 3" to 4" range from my PAP or with a pin up layout in that same pin to PAP distance.
Observing the way the ball has performed for others, it definitely is aimed at usefulness in those medium to light and medium to short pattern situations. Several PBA50 players used it successfully in Anderson, IN on PBA50 Cheetah (35 feet). Even then, but especially in other situations, the times that I have seen the ball perform most successfully have been in the hands of higher rev players. That's not to say that it won't work at all for lower rev players. Recently viewing the Women's US Open on Xtra Frame I noticed Liz Johnson has some success with the MATCH PEARL playing a very tight (almost fall back) shot at around fourth arrow in this year's pattern (38 feet).
All and all, the jury is still out on this ball for me and whether I'll end up keeping it as a go-to for any particular patterns or situations.

The best I can say so far is that it seems to be significantly more useful in the hands of high rev players than in the hands of Raisins like me.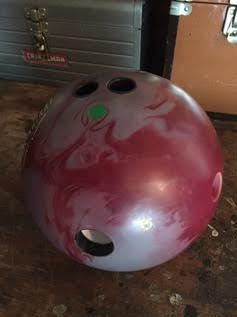 | Lbs. | RG | Diff. | Inter. Diff. |
| --- | --- | --- | --- |
| 16 | 2.55 | 0.027 | |
| 15 | 2.55 | 0.030 | |
| 14 | 2.58 | 0.030 | |
| 13 | 2.59 | 0.045 | |
| 12 | | | |
---
---